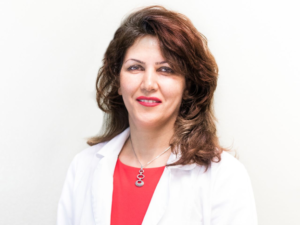 My name is Mozhgan, the owner of Royal Skincare. For as long as I can recall, I have been learning different approaches to create a healthy life and healthy state of body, mind, soul. Getting certificates in Ayurveda, Herbal Medicine, Face Massage, and Energy Healing did not satisfy me, and thankfully led me to find my passion in skincare.
My background in Herbal Medicine and Energy Healing changed me and I started to focus on Holistic Treatments and became very selective about the product lines in my salon. Our skin is our body's largest organ and what we put on it will eventually find its way through our entire system. That is why you will only find the highest quality of natural and scientifically backed skincare, free from fillers, parabens, petroleum, and harsh chemicals, available for purchase as well as used during facial care with us. I always educate my clients, from correcting their posture to daily massage techniques on their faces, product ingredients, and healthy drink recipes. I consider my clients as my new friends and feel blessed by each new one that comes to me.
A little bit more about me: my husband and I are blessed to have a 27-year happy marriage, with a 24-year-old beautiful daughter who graduated from ASU and a 14-year-old son. I spend most of my free time researching and gaining more knowledge on skincare. Face reflexology and Gua Sha are my new skills, adding to my previous knowledge in Holistic Treatments. My clients tell me that I have healing hands and I believe it to be true because of the vibrations of love that I spread to all my clients.