TAMA Microcurrent

A series of unique skincare treatments using an innovative technology that activates the body's natural electrical and magnetic currents for the ultimate face rejuvenating.
TAMA Facial Therapy is designed to DETOXIFY, LIFT, TONE, and INFUSE the skin tissues to ensure the best results in facial rejuvenation. TAMA creates a unique skincare treatment using innovative technology that activates the body's natural electrical and magnetic currents to assist with problem areas all over the face. TAMA Microcurrent delivers a specific electromagnetic field to rebalance cellular activity in a manner that is natural to the body. This unique technology TONES the muscle, DRAINS the lymph glands, REJUVENATES the skin, and allows BIO-MOLECULAR product TRANSPORT across the dermal layer without compromising cells. TAMA Facial Φ Therapy can be used as a stand-alone rejuvenation treatment or added to any non-invasive treatment to boost the rejuvenation results.
How does microcurrent work?
Scientists have found that microcurrent treatments cause the body to produce amino acids and ATP, which speed up cell repair and promote healthier cell production, allowing it to be affectively healing restorative and degenerative. The skin of the face and neck are directly attached to muscles. As the muscles lengthen or contract with age, signs of aging will appear here first. As we adopt healthy choices by adding exercise to our daily activities, we need to be mindful of the 32 individual muscles in our face. WHY NOT exercise those muscles naturally. Microcurrent treatment is completely natural, safe and non-invasive, and allows your facial muscles to tone, rejuvenate, heal and rebuild themselves.
Microcurrent is the most natural, non-invasive and holistic approach to facial treatment. Visible results are evident after a single pain-free treatment. Subsequent treatments have a cumulative effect and provide remarkable results that challenge both dermal fillers and laser technology.
TAMA Microcurrent is a form of electrical massage that allows your face to attain better health naturally. This non-invasive, holistic modality is closest to the body's own healing state, promoting homeostasis through rebalancing of ionic transport in the epidermis, dermis and subcutaneous layers of the skin. TAMA's unique Multi-Mode Waveform stimulation provides simultaneous muscle toning and re-education, thus providing both short- and long-term benefits without inflammation.
Ask me about TAMA's Microcurrent facials and start your journey to a newer you!!
Treatment Schedule
You are never too young to start your journey to a healthier you!
Rejuvenate your skin with this state-of-the-art anti-aging Microcurrent treatment.
Ages 20-35 once a month; this may be added to your monthly facial
Ages 35-55 once a week for 8 weeks; followed by once every 21 days for maintenance
Ages 55+ once a week for 12 weeks, followed by once every 10 days for maintenance
No other aesthetic service can come close to these proven results:
Reduces the appearance of dark circles, blueness and other skin discoloration
Reduces puffiness and bags under the eyes
Improves the appearance of fine lines, wrinkles and sagging skin
Helps skin appear firmer, lifted and toned
Brightens and revitalize the skin
Prolonged use reduces deep lines by increasing elastin and collagen production.
Facilitate product penetration
Drain lymphatic nodes
LED Lightwave Therapy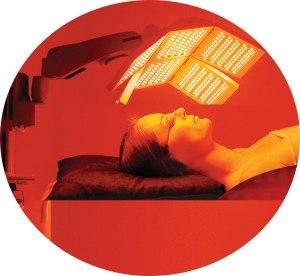 LED light therapy is the process of converting light energy into cellular energy for natural, non-invasive skin rejuvenation. Through a combination of Red-light therapy, Blue light therapy and Infrared light therapy these wavelengths work for anti-aging therapy, wrinkle treatments, scar treatments, acne treatment s and more. Blue and Red light can also be used to activate PDT, or Photo Dynamic Therapy.
LED LIGHTWAVE stimulates collagen and elastin production and tissue repair which can reduce and even reverse the effects of aging and damage to skin and other bodily tissues. It does this by enacting cutting-edge protocols that activate the cellular renewal process, while restoring and protecting the surface of the skin, resulting in a significant and yet completely natural looking cosmetic enhancement.